The new solution for taking clients, students or colleagues on a virtual walk-through that truly is shared. Live-Guided Tours allow you to have a video call inside of a virtual tour. For the personal touch and assistance that remote showings may have lacked up to now.   
Today, we are proud to announce a great little revolution in terms of virtual tours: Virtual tours with integrated video conferencing that can be controlled by any participant. Surely a paradigm shift for Real Estate, Universities or Remote Working. This feature comes with 3DVista Virtual Tour PRO, no add-on payment – all you need is your VT PRO license (499€ one-time payment – unlimited tours, unlimited hours and participants in Live Guided Tours). (If one or more participants in your sessions are behind a firewall, you will need to get TURN service as well – read here about TURN).
Be there or be square 😉
What does it do?
Take your guests "by the hand" on a virtual tour by mimicking your screen on theirs (or theirs on yours – if you give permission). Synchronizing where you look, you can take turns on controlling the virtual tour. Guests can still "unhook" from that and take a closer look where THEY want so as not to lose the interactivity that characterizes a virtual tour. With a simple button click they hook back onto where the host is (equally, the host can force any guest to join back into their viewpoint with a button click).  At the same time, you can talk to each other as you go through the virtual tour.
Live Guided Tours are accessible on both desktop and mobile devices, so your clients can dial in from their mobile phones as well.
The host (be it an agent, a teacher, a colleague…) can point out areas of interest in real time and discuss what's being seen in 360º by everybody in real time. The guest (client, student etc.) can follow where the host takes him, look around on his own or ask for permission to control the tour for everybody as if he were the host- ideal for asking questions on elements and details in the scene.
Don't fancy leaving your client alone trying to explore and understand a listing or space? Give him a guided tour with a personal touch by taking him through the space – virtually, but accompanied.
More than Screen Sharing
Live Guided Tours are more than a video conference with a shared screen. They're a communication tool embedded in a virtual tour. Everybody can navigate the tour as they're used to or follow the lead of the one controlling the tour. But everybody sees the tour in the quality that it is – a big difference to trying to screen share a 360º medium via Skype or Zoom for instance.
How it works
Prep the Tour
First, you need to enable your virtual tour for this feature. In VT PRO click on "Publish" and in the Publish Window, enable the option "Live Guided Tour":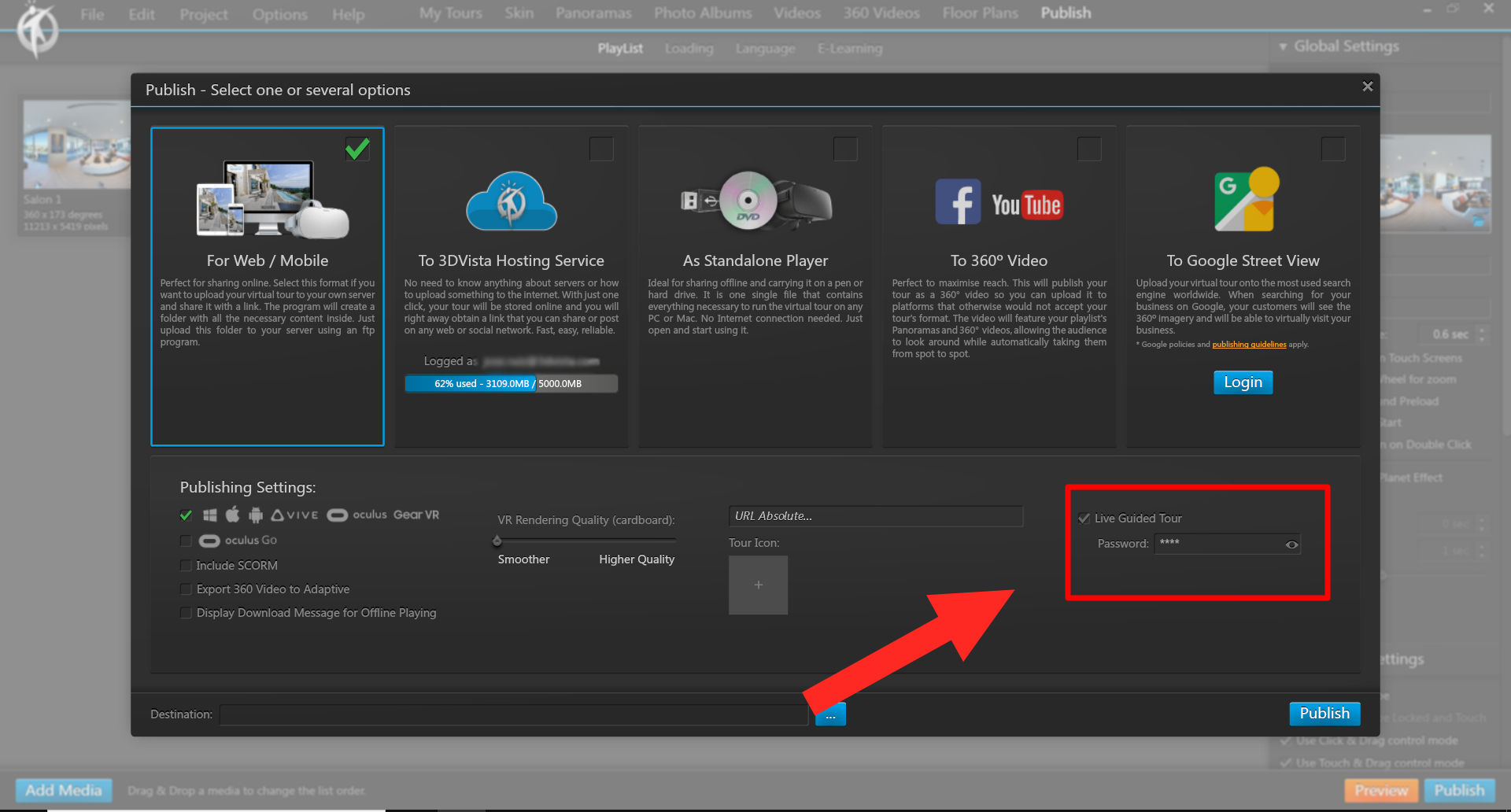 It's probably worth noting that this will still be a "normal" virtual tour – as any other you may have on your website. The only difference is upon right click the host has the option to open the line for a Live Guided Session. That's why you're asked to define a password here, to protect your public virtual tour from just anyone trying to sign on as a host. So make sure you keep the password safe and only tell those who are allowed to sign on as hosts.
The Host
Once your tour is online, you can Start the Live Guided Tour, which means you open the line for guests to dial in. For that, right click on the tour and select "Start Live Guided Tour". Now, is when you'll be asked to insert the password established above. This will make you the host of the session. Once you're online as the host, guests start seeing the option to "dial in" and you will be notified of any call coming in.
If you log in for the first time, the system will take you through a couple of windows that explain the buttons available to you. Make sure you understand read through these, as the different modes influence who will be allowed to talk on a call.
Once you're through these explanation windows, you're ready to be called. Make sure your settings allow for notifications in your browser. Otherwise, you won't be able to be notified of an incoming call.
In your browser, you need to give permission to access the camera and microphone. The browser system will ask you this automatically upon accessing the URL for the first time (as soon as somebody calls you). Make sure you click "Allow" to grant access in the permission window. You can revoke this permission in your browser settings at all times.
Should you not see this window or accidentally have denied permission, you can go to your browser settings, search for the term "camera" and under "Site Settings" view and edit the sites that block and allow your camera access. This is the case for both host and guests accessing Live Guided Tours.
Guests
Guests will only be able to call, when there is a host logged in as such. As soon as the host logged in, any visitor of the virtual tour will see the option to "START LIVE SESSION" on the top of the screen.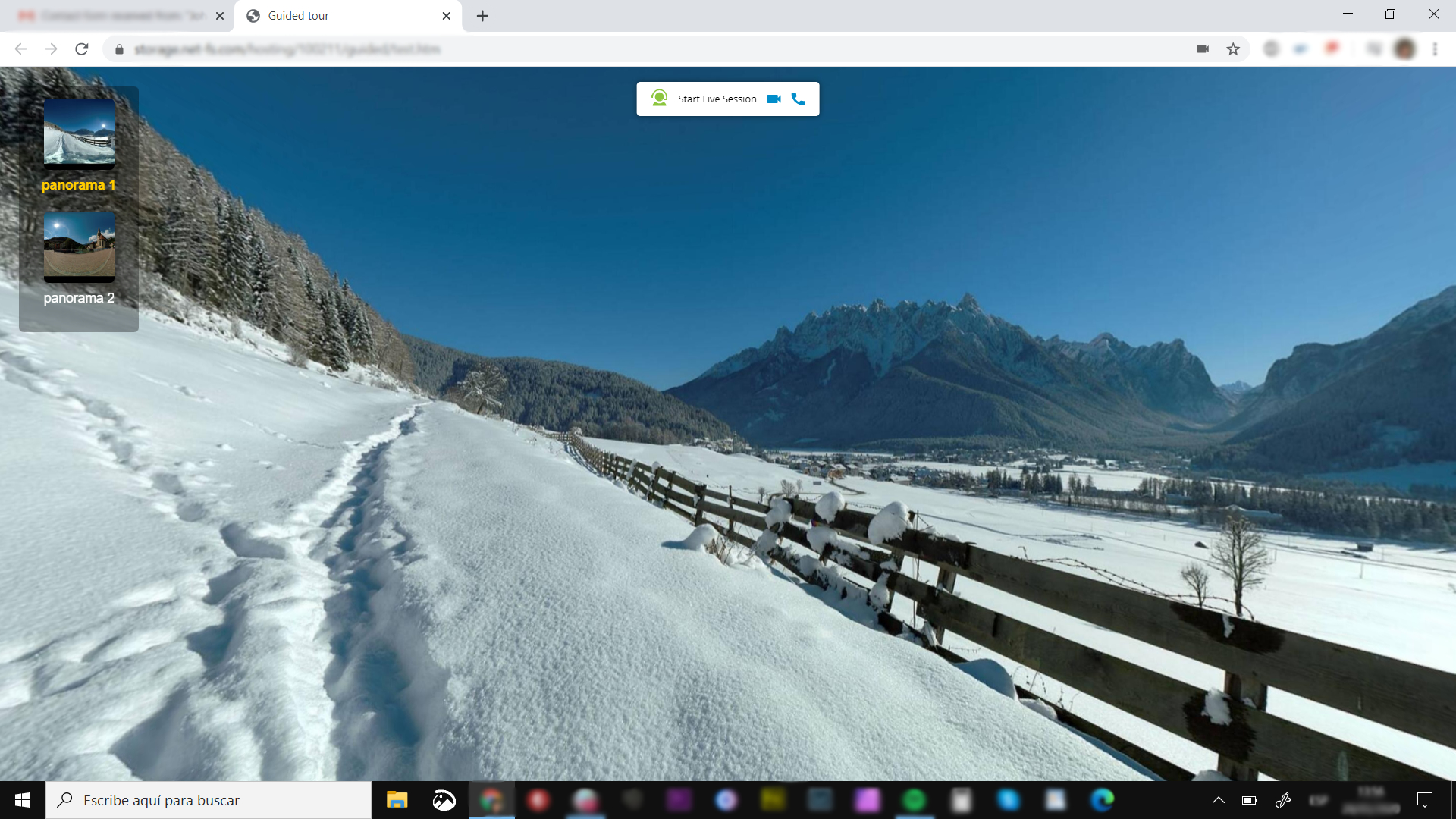 When clicked, the guest will be asked to insert a name (this is cached, so you only have to insert that the first time). Upon clicking "Connect" the guest is calling in to the Live Session. Make sure to grant permission to your camera and microphone.
When a guest first enters the tour, they'll be prompted a welcome screen with instructions on the Feature.
And that's it. Ready to explore, show, guide and talk – together.
Real estate showings – accompanied and guided. Virtual field trips to the Pyramids or the Past. Personalized sales presentations and virtual showrooms staffed with actual humans. Virtual group plant visits with colleagues from all over the world. You name it.
In-Tour Audio
Of course your audience can hear you, the host, talk. But any audio you place inside your tour is muted by default, so as not to interfere with your voice speaking. If you want your audience to hear audios and sounds you placed in your tour, all you need to do is enable sound for videos from your right click menu.
TURN service
The LGT technology is based on a Web RTC which allows us to offer it for free. However, if you use LGT on a regular basis and professionally or anticipate your clients to work from behind firewalls or corporate networks, we suggest you have a look at the TURN service, an insurance mechanism and server that makes sure you have reliable conference sessions even with tricky security measures and networks.
Still running into problems?
Check out our trouble shoot.