The most important additions are:
 Multilanguage now supports Audio, Video, 360 Video, Floorplans and Pop up images.


You can now select different media files for each language you are translating your tour to. So you can have, for example, an English version of a video, and a different version in Chinese, and depending on the language chosen for the tour, one or the other will be displayed.
Multilanguage now supports Text Hotspots


Translate your text hotspots directly in the translation window.

New Graphical Interface


We redesigned the program interface to give it a more up-to-date look and feel. We simplified and reorganized some functions and options for a more intuitive and efficient use.
New Rain Special FX


You may already know the snow effect in 3DVista. Similar to that, you can now add a realistic rain effect to your panoramas as well. This may help you to tell a certain story and to give your tours a more dramatic touch. You can control the color, intensity, speed and opacity for a perfect fit.
View Sample Tour
Added Dust effect in the FX subtab for Panoramas


With this new dust effect, you will get many particles floating around your panorama, adding movement and expressiveness. Ideal for dark and ancient environments, or by exaggerating the effect a little, to achieve slightly more magical and fantastic environments.
View Sample Tour
Added Video Hotspots in 360º Video (DEVELOPMENT SPONSORED by Martin)


Expand the multimedia possibilities by adding video hotspots to your 360 videos. From the editor, you can even animate their size, position and rotation over time. And apply chroma adjustments, blending, playback control, etc.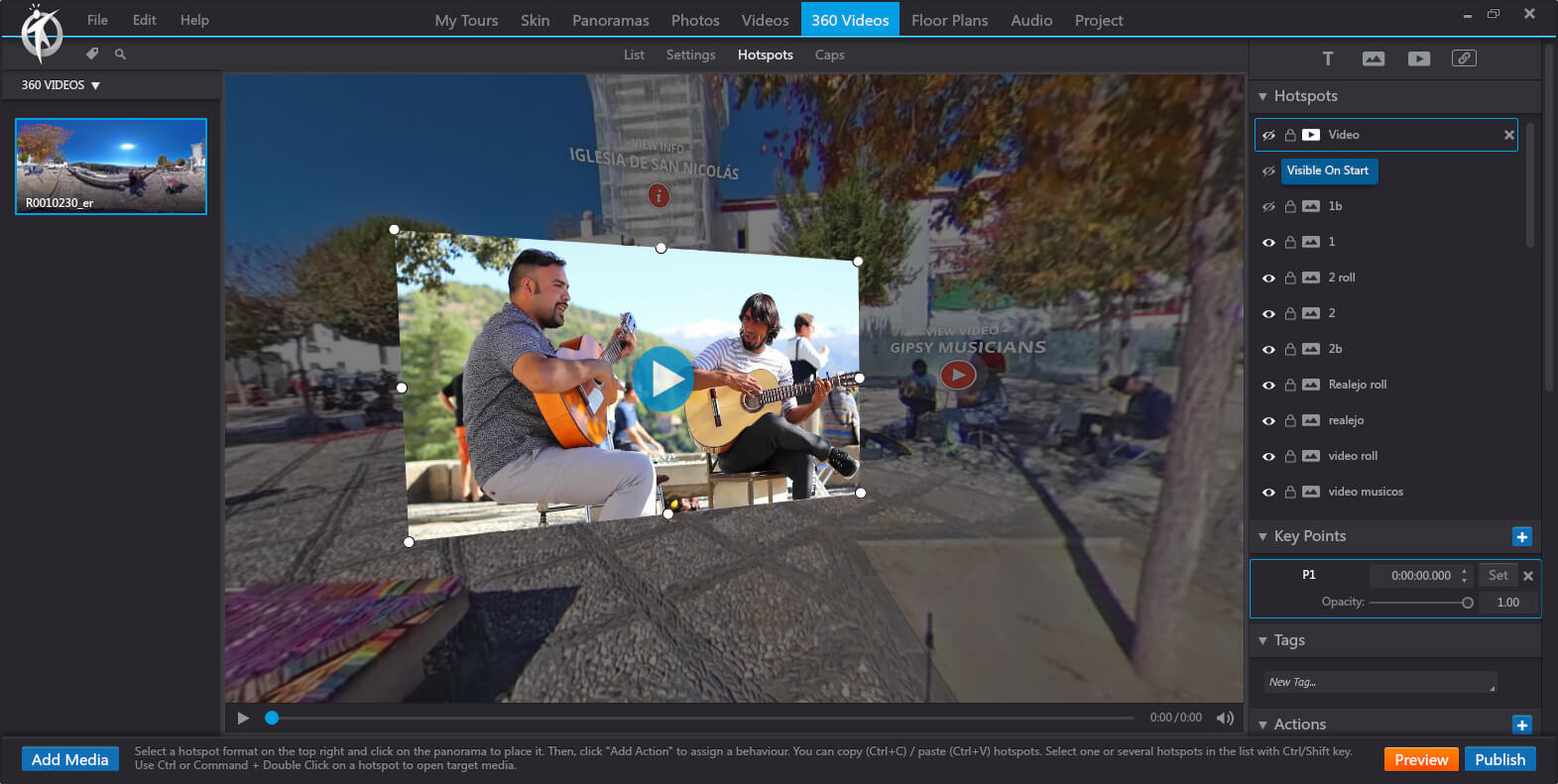 Video Hotspots resume when moving between Panoramas


Now when you play a video hotspot in a tour it will continue playing from the same point even when changing panoramas.
Subtitles now supported in Video Hotspots


Subtitles included in a video are now also displayed when the video is played as a Hotspot.
Added new 3DVista Notes Option in the Publish Popup


The new "Notes" tool will allow your audience (e.g. clients, colleagues etc.) to add notes to your published tour and create conversations around them. Similar to a WhatsApp group but associating them to specific elements within the tour. You will all work within the published virtual tour, which means your clients do not need a 3DVista license to participate. They simply access the tour link and start commenting. You will have total control over which users can access these notes, you can categorize them, automate notifications, add multimedia, access via mobile… and much more that we will explain in detail in future posts.
*

Notes is a new optional service that has to be purchased separately.
New Audio Tab


With the new Audio tab you can now more easily manage all the media of this type that you are using in your project. This allows you to use audio like any other media, being able to make individual adjustments, assign labels and add actions to them.

Added "Volume" option in Audio.

Have more control of your audios being able to adjust the volume level directly here. This way you can avoid editing with external audio programs.

Added "Fade Out Time".

Fade effects at the end of your audios with the duration you determine. This way your audios will not end abruptly, their volume will gradually decrease until nothing is heard. 

Added Actions in Audio at end.

Add any type of action that will be executed right at the end of an audio.
Added Line Height and Letter Spacing options in the Multiline Text component


Now you will have more control over your texts. Enlarge or reduce tracking and line spacing to your liking.
Notifications appear when a project is loaded or has been uploaded to the 3DVista Cloud.


We have included a useful notification system within 3DVista VT PRO which will make the program notify you when a project has been loaded or when it has finished publishing. So you can take advantage of those waiting times doing other things, knowing that you will be notified when the processes are finished.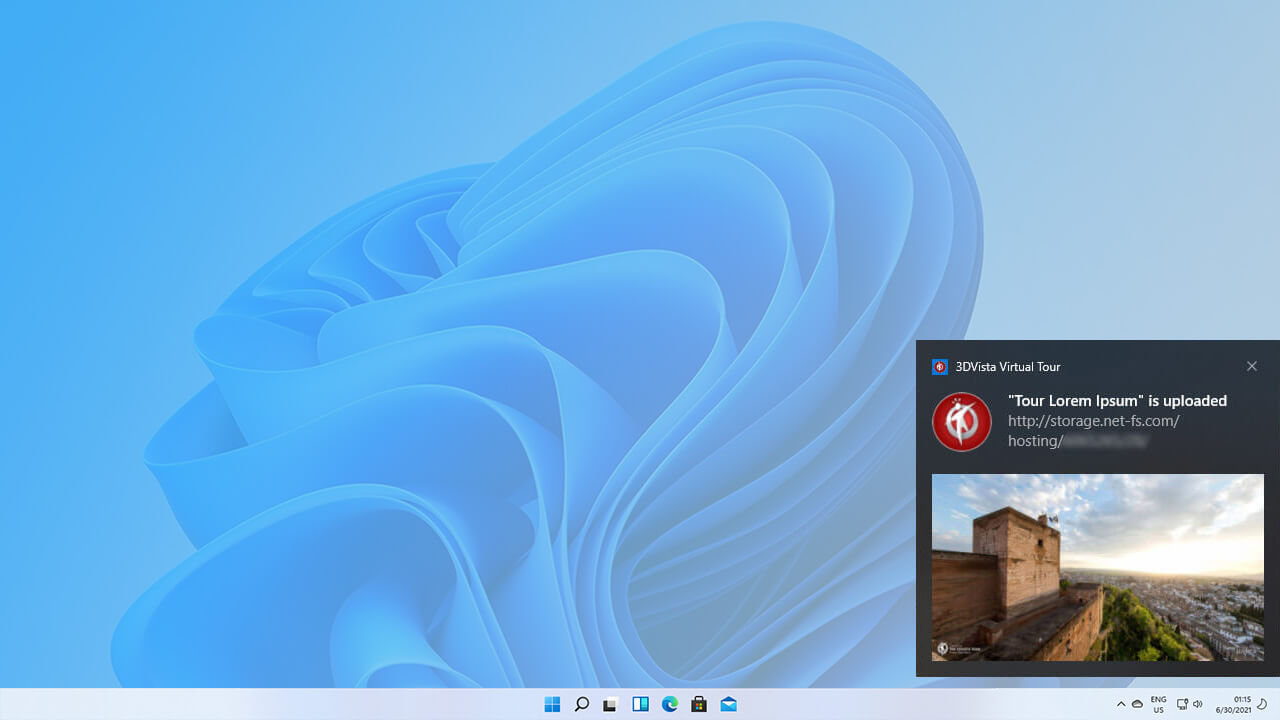 Added an action to the close button of a Popup element


Chain actions. With this new option, you can make closing a popup window automatically launch any other action you choose.
More features:
Added "Icon Before Label" option for Buttons in the Skin.

Added "Total Score" and "Questions Answered" options in the "Trigger Upon Target" action.
Added "Total Score" and "Questions Answered" options in the Progress Bar skin component.
Added Search bar in Project tab.
Added tag owner type selector in the Project / Tags panel. You can select media, hotspots or skin components.
Added Show/Hide Tags icon in Settings tab.
Added Autoplay option in 360 Video Settings panel.
Renamed Publish tab to Project tab.
Moved the Zoom Settings panel content to Panorama Settings panel.
You can also use right click to edit the hotspot/component name in the list instead of double click.
Fixed an issue with the GSV editor in Apple M1 (reported by Fred, Alain and Norman).
Support for Internet Explorer has been removed.
Fixed Updates:
Added "Allow Projected Hotspot on Top" option for Projected Hotspots.
Fixed an issue with Mac OS 12.1 and the Save As option (reported by Ronald).
Fixed an editor issue with the vertical align in Buttons (reported by Ronald).
Fixed an issue with MacOS 12.1 where the file selection is freezed.
Fixed an issue with the "Show/Hide Hotspots" using tags in the Webframe Hotspble Mobile" option when "Visible on Rollover" is checked for Panot (reported by Ronald and Avi).
Fixed an issue with the "Enaorama Hotspots (reported by Dave).
Fixed the border radius in Text Hotspots in the preview (reported by Adam).
Fixed blurry text in Text Hotspots if the export size was changed (reported by Stefan).
Fixed a problem with the Media Control action in the Mobile Skin (reported by Tommy).
Increased the resolution in Image Hotspots with the "Apply as Sticker" option disabled avoiding blurriness in Retina displays (reported by Ian).
Fixed an issue with 8K 360 videos on Oculus Quest 2 (reported by Tim).
Fixed an issue with the hotspot position in the editor with the "Apply as Sticker" option disabled (reported by José).
Added Shift + Double Click shortcut in a Hotspot with "Open Media" action to load that media. It avoids the problem with Polygon Hotspots adding/deleting points. Ctrl + Double Click will continue to work for now for the rest of Hotspots.
Fixed an issue using bottom vertical alignment in a Text Hotspot (reported by Joe).
Fixed the video volume was reset to 1 when the project was loaded (reported by Andres).
Fixed the 360 Video can't be deleted in the 360 Video tab since the last version (reported by Willy and Hector).
Fixed a small grey border in the Preview for the Projected Image Hotspot. It requires "Project / Clean Cache" in your project.
Fixed an issue copying/pasting a Projected Image Hotspot.
Added the "Move to Next Image in Group when clicking" option in the Projected Image Hotspot.
Fixed an issue with the Projected Image Hotspot where a black background was exported in the preview if the source file wasn't PNG (reported by Edison).
Fixed an issue replacing a Panorama with Question Card actions in Hotspots (reported by Álvaro).
Fixed an issue with the 3D transition in Polygon Hotspots (reported by Samuel).
 Fixed some issues with hotspots in 360 Video.
Fixed an editor issue where videos couldn't play on Mac (reported by Andrew and Sean).
Fixed an issue with Projected Image Hotspot in partial panoramas (reported by James).
Changed the way to move the view clicking in the thumbnail in the Thumbnails left list. You need to press the "Shift" key to change the view.
Fixed an issue with the Chroma values being resetted in some circunstances (reported by Sean).
Fixed an issue with Radars in Polygon Hotspots for Floorplans (reported by James).
Fixed an issue with the Popup Image action applied in a Polygon Hotspot (reported by Igor).
Fixed the Scale Mode option in non-sticker hotspots (reported by José Reis).
Fixed an issue in Dual Viewers were out of sync when the right viewer was clicked (reported by Mike).
Fixed an issue with the Polygon fill color in the editor if you use an opacity lower than 1 (reported by Grayson).
Fixed an issue changing values in the Transform Settings panel for Hotspots in 360 Video (reported by Nick).
Fixed an issue with the Popup Image action and the initial position in the Preview (reported by Harry).
Fixed an issue with the Text Hotspot and its shadow in the Preview (reported by Edward and Tomas).
Fixed some errors with the Hotspot Editor.
Want to try it?
This is an update available to all 3DVista users, although some of the features will require a valid Upgrade plan (what's that?).
Not a 3DVista user yet? Try our free 30-day trial (no credit card required) of the desktop software VT PRO to design and create your own virtual tours. You don't have any 360º content to work with yet? No problem. Just download our demo tours and use them in the software to play around with.