A new feature of 3DVista
Cloud
Keep your clients or partners updated about the statistics of their tours
With the new feature "Share report", you can share a link so that anyone can see all the specific analytics of a specific tour. Thus, in an extremely easy way, any client or project partner will be able to see the performance of a tour autonomously whenever they want, without having to ask you for reports from time to time.
Users will be able to choose between seeing the data of all the accumulated time, the data of the last year, month, week… or even custom date ranges and their evolution through graphs.
The analytics will display the number of visits, users, average time, origin… and those of each Media in particular: Most viewed averages and most clicked Hotspots, Heatmaps in panoramas and 360 videos, average times of display, etc…
All this on a web page that is kept up to date at all times and will always offer you data in real time:
Of course, users who want to see this report do not need to have a 3DVista or Cloud account. Anyone can access it, you will only share a simple url. And it can be viewed on any device, desktop, tablet, mobile… with a design adapted to each of them.
In short, a powerful tool that will be highly appreciated by your customers and a new added value as part of your services.
Share your Analytics
It couldn't be easier. Just log in to your 3DVista Cloud account, go to the Analytics menu, choose the tour you prefer and click the "share report" button.
Then press "copy" so that the link with the url is copied to the clipboard and thus be able to paste it (ctrl+V) anywhere to share it (in the browser, in an email, social networks, etc…)
And that's it. The shared page will look something like this: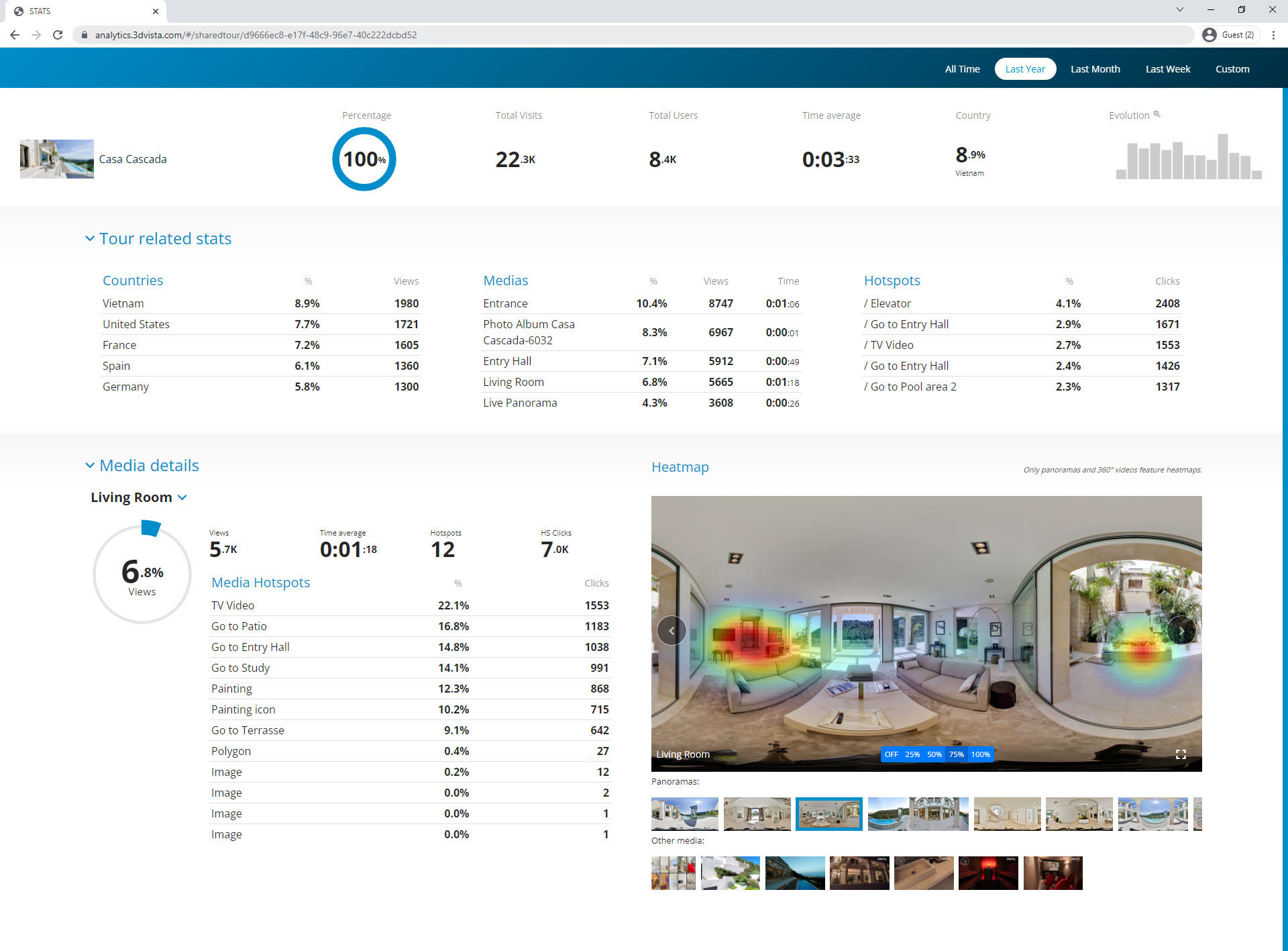 Finally, we have the option to reset the link, which will generate a new url and invalidate the old one.