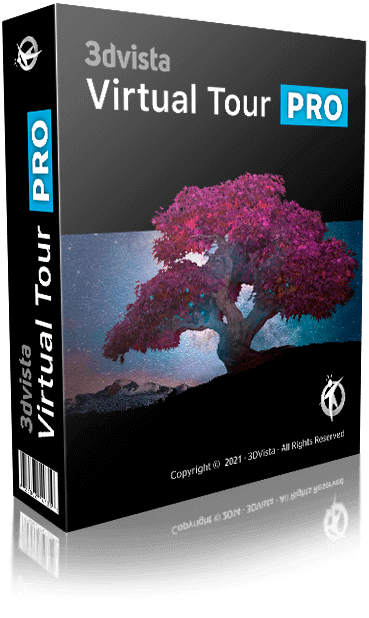 EINMALIGE GEBÜHR UNBEGRENZTE TOUREN FÜR IMMER
Erstellen Sie interaktive virtuelle 360º-Rundgänge auf die einfachste und angenehmste Weise: 360º-Ansichten (Panoramen), 360º-Videos, 3D Sounds, Videos und Fotos, Grundrisse und vollständig anpassbare Layouts. Erstellen Sie Touren, die Geschichten erzählen: Mit multifunktionalen Hotspots und anklickbaren Objekten, welche Ihr Publikum beim Durchlaufen der Tour entdeckt. Neuer 3D-Übergangseffekt und einzigartige Funktionen wie Animierte Panoramen, Live-Panorama (Tag-Nacht-Effekt), Adaptives HDR und 360º-Video mit integrierten Hotspots.
Virtuelle Touren können auf jedem Computer, Tablet oder Telefon (Android & iOS) betrachtet werden – keine Installation oder Plugins erforderlich. Online & Offline. kompatibel mit VR.
Testversion herunterladen:
ERHALTEN SIE GRATIS MIT DEM KAUF
Stitcher 4 (99€)

3 meses opcionales de hosting 3DVista (30 €)

1 Jahr kostenlose Upgrades inklusive (optional danach)
3DVista wird jetzt unterstützt
Erleben Sie die Kraft virtueller Touren wie nie zuvor mit unserer fortschrittlichen Interaktivitätsfunktion für 3D-Modelle. Erwecken Sie Ihre bereits vorhandenen 3D-Modelle mit unserem benutzerfreundlichen 3D-Tour-Editor zum Leben. Übernehmen Sie die vollständige Kontrolle über Kamerawinkel, Beleuchtung, Schatten, Animationen, Texturen und mehr, um wirklich einzigartige und immersive Erlebnisse zu schaffen.
Diese leistungsstarke Funktion eröffnet endlose Möglichkeiten in Branchen wie Architektur, Ingenieurwesen, Marketing und Bildung und bietet neue Perspektiven und verbesserte Visualisierungsmöglichkeiten.
FÜR SKALIERBARES TRAINING MIT INHALTEN, DIE IN ERINNERUNG BLEIBEN
Verwandeln Sie Ihre virtuellen Touren in umfassende Lehr- und Testwerkzeuge mit Entdeckungs-Hotspots ("Schatzsuche"), Fragen- oder Quizkarten, integriertem Scoring, Berichtssystemen und LMS-Integration. In Kombination mit den traditionellen 3DVista-Funktionen wird Ihre 360 ° -Leinwand in ein leistungsstarkes Tool für die Erstellung virtueller Zwillinge und Schulungen umgewandelt, das sicherer, weniger aufdringlich und skalierbarer ist als das Üben vor Ort. Simulieren Sie Szenarien, Situationen und Orte und verwenden Sie Gamification oder bedingte Aktionen, um es den Schülern zu ermöglichen, gegeneinander anzutreten und während des Lernens Abzeichen zu verdienen.
Aktive Lernkonzepte, die auf Spiel und Entdeckung beruhen, virtuelle Ausflüge oder Betriebsbesichtigungen, Trainingssimulationen in 360º, Sicherheitslehrgänge und Gefahren- bzw. Schatzsuchen sind nur einige der Anwendungen, in denen das Virtual Tour Training große Fortschritte gebracht hat.
DAS NEUE KOMMUNIKATIONSKONZEPT FÜR UND MIT IHREN KUNDEN
Diese Funktion kommt einem virtuellen Besprechungsraum innerhalb einer 360 ° -Tour gleich und kann am besten als Kombination einer Videokonferenz mit 3DVista beschrieben werden. Verwenden Sie Ihre bestehenden virtuellen Touren auf Ihrer Website und ermöglichen Sie Ihrem Publikum, sich einzuwählen. Lassen Sie sie miteinander sprechen und sich gegenseitig durch die virtuelle Tour führen. Ihre Besucher können sich selbstständig umsehen oder Sie können Sie "an die Hand nehmen", sodass alle Ihrem Bildschirm für eine ganz persönliche (Verkaufs-) Präsentation folgen. Ein Besucher kann ebenfalls anfordern, dass sein Bildschirm auf Ihrem und dem aller anderen Teilnehmer imitiert wird, um so beispielsweise Fragen zu bestimmten Objekten in der Tour zu stellen.
Hotspots sind die Seele einer virtuellen Tour. Sie erwecken Ihre Touren zum Leben indem Sie es Ihrem Publikum ermöglichen, auf Objekte zu klicken und Informationen und Details zu entdecken. Wählen Sie aus unserer großen Bibliothek von Icons, importieren Sie eigene Bilder oder markieren Sie Objekte in Ihren Panoramen, um sie als klickbare Hotspots zu verwenden. Die Aktionen, die einem Hotspot zugeweisen werden können, sind vielfältig: Öffnen eines Detailbildes, eines 3D-Modells, Öffnen eines E-Commerce-Fensters, eines Infofensters, einer Website, einer Quizkarte, Herunterladen einer Datei oder Abspielen von Audio, Video (360º-Video und normales Video).
Stellen Sie sich vor, Sie klicken auf eine Person innerhalb eines Panoramas und erwecken diese damit zum Leben. Das ist, was Ihnen die Option des Animierten Panoramas bietet. Weniger "schwer" als ein ganzes 360º-Video, aber lebendiger als stille 360º Panoramen, sind Animierte Panoramen die ultimative Möglichkeit, Ihr Publikum zu informieren und zu unterhalten. Im Gegensatz zum Öffnen eines Info-Fensters bewegt sich hier das integrierte Element, sei es eine Person oderbeispielsweise eine Produktionslinie, selbst, um Sie ganz natürlich zu begrüßen oder Ihnen etwas zu demonstrieren. Oder Sie lassen einfach einen Kamin aufleuchten oder den Topf auf dem Herd dampfen, um einzelne Elemente zu animieren und so ein Ambiente zu schaffen.
Peppen Sie Ihre Touren mit kleinen Goodies auf, die es zu entdecken gilt.
Fangen Sie den wahren Geist eines Ortes ein. Ein Live-Panorama kombiniert mehrere Panoramen desselben Ortes, die zu unterschiedlichen (Uhr) Zeiten aufgenommen wurden, zu einer interaktiven 360º-Zeitraffershow. Das Ergebnis ist atemberaubend: Während Sie sich umschauen, sehen Sie, wie sich die Szenerie langsam verändert und entwickelt.
Die Dynamik eines Live-Panoramas vermittelt das Quäntchen mehr an Emotion und Echtheit. Zeigen Sie ein Haus in verschiedenen Lichtverhältnissen, eine Terrasse, die bei Sonnenuntergang ihr Ambiente ändert oder ein Restaurant von leer bis gut gefüllt. Die Möglichkeiten sind endlos.
Die 3D-animierten Übergänge zwischen den Positionen vermitteln Ihnen einen natürlichen Bewegungseindruck, den Sie vielleicht von 3D-Modellen und Scans kennen. Anstatt von einer Stelle zur nächsten zu springen, gibt Ihnen diese Technologie das Gefühl, dass Sie sich tatsächlich zur nächsten Position vorwärts bewegen. Ganz ohne komplizierte 3D Scans, nur basierend auf Ihren Fotos.
Nutzen Sie Ihre in V-Ray, 3DS Max, Sketchup etc. – erstellten CAD und Render Panoramen um großartige 360º Virtual Touren Ihrer Projekte zu kreieren. Sie können diese Touren sogar in 360º und Stereo erstellen, was den Bildern Tiefe und Dimension gibt und so zu einem noch beeindruckenderen und realistischeren Erlebnis auf VR-Headsets führt. Ideal für Architekten und Designer.
A 360º scenery, but in movement! Just as with panoramas, you can place hotspots in your 360º videos to explain or highlight things in the scene. Those things are in movement? No problem – 360º video hotspots can be dynamic so as to move, appear, disappear and change in size with the object.
We make HDR dynamic. Inspired by the behaviour of the human eye, which adapts to light and dark dynamically by adjusting the iris, we make the panoramas adapt. This means that depending on the area of the panorama that the user is looking at, light and exposure adapt accordingly. A great feature, unique to 3DVista, to make HDR seem more real.
AND INDIVIDUAL STYLE ELEMENTS
Skins are the frame of your virtual tours. They can include stickers, buttons, text boxes and logos that "float" on top of the virtual tour. A skin is what gives your virtual tour the look and feel of a custom presentation and should go hand-in-hand with your style guide or corporate identity.
Choose preset skins or create your very own design from over 300 library elements and import your own elements. Once designed, save individual components as well as entire skins or masks into your library for future use. Unique, yet fast.
3DVista Virtual Tours are VR compatible, which means they can be seen in "standard 360º" and in Virtual Reality. The simple push of a button will let your audience switch from one mode to the other.
Create your very own Virtual Reality Experience and share it as a link, which will play the immersive experience on most popular VR devices.

VT PRO is one of the only providers to support 360º in real 3D. Import your stereoscopic panoramas or renders and create a stereoscopic 3D 360º interactive virtual tour that beats everything else in realism. The difference from mono to stereo will blow your mind and allow you to create your very own real-world video game.
MAPS, FLOOR PLANS & COMPASS
Place maps or floor plans for orientation on top of your virtual tours. These can be equipped with hotspots, too, so that your audience can jump from room to room or even from floor to floor more quickly. A radar tool indicates at all times in which direction the user is currently looking.
Would you like to show a Google Map inside your tour or allow your audience to access a booking system? No problem. Apart from media imports into your virtual tour, you can also embed and pop up external content – say videos hosted on YouTube, Google maps, booking systems or 3D models sourced from sites such as Sketchfab. This is an excellent way to make use of public material or minimize the size of your virtual tour file by uploading videos to YouTube and then sourcing them in the tour.
Limitieren Sie den Zugang und schützen Sie die Privatsphäre Ihrer Kunden, indem Sie Ihre Touren mit einem Passwort schützen. If you are using 3DVista Hosting service, you have the option to set a general password for a tour, which your audience needs to know in order to access the tour.

LADEN SIE IHR TOUREN HOCH UND TEILEN SIE DIESE MIT NUR EINEM KLICK Haben Sie Ihre Tour fertig erstellt, wissen aber nicht, wie Sie sie auf ihre Webseite hochladen können? Machen Sie sich keine Sorgen. Unser Hosting Service lässt Sie Ihre Virtual Tours mit einem Klick und vom Virtual Tour Programm aus hochladen und als Link versenden oder in jegliche Webseite einbetten.
Sobald Sie mit der Tourerstellung fertig sind, klicken Sie einfach auf "Hochladen"und die Tour wird in Ihrem eigenen Hosting Kanal gespeichert. Innerhalb von Minuten werden Sie zwei Knöpfe sehen – einen um einen direkten Link zur Tour zu kopieren und -beispielsweise per Email, Facebook oder Whatsapp zu verschicken, und einen zweiten um die Tour in Ihrer Webseite einzubetten.
*Dieser Service ist optional.
Sie könen Ihre Touren immer auf Ihren externen Servern hochladen.
You can produce your virtual tour in various formats. Publish "Online" if you want your audience to see your tour on your website or share it via link or export with a standalone player to make your tour run offline and locally.
Use virtual tours in combination with your high quality still photography. Photo albums complement a virtual tour, much like a catalogue does. Your audience will always love to flick through the "pretty corners" of the house.
With the viewer prominently in the center of the screen, you will be working on the actual images. Drag and Drop elements, such as hotspots, onto the panorama and edit them using the control panel on the right hand side. Categorized menu tabs on the top indicate where each function is located and determine the individual controls shown in the control panel on the right. The preview function lets you instantly check your changes and the Undo-/Redo Buttons make experimenting a joy.
Brand your tours with your logo, corporate colors, headshot or contact information to maximise leads and advertising.
3DVista virtual tours can be embedded into your own websites, whether you use your own or 3DVista's hosting service. The easiest way is by using our hosting service, which integrates into the software and lets you upload your tour with one click onto the internet. The software will prompt you two links – one to share the tour instantly, and another to embed the tour into your website. Just copy and paste that line of code into the code of your webpage. No need to know anything about coding.
Tours created with VT PRO are always and automatically compatible with all devices, PCs, Macs, tablets, iOS and Android phones – without the need to install any special drivers or software. But there's more. Thanks to the flexibility of our skin editor, you can create skins that adapt to the user's screen size and resolution. Furthermore, the tour will realize from which device it is being opened and use the optimized media quality and frame rate to guarantee a flawless and fast-loading experience.
Use our free 3DVista App for iOS and Android to carry all of your tours with you on your smartphone or tablet. Manage and show your tours anytime and anywhere, on- and offline. The possibility to download individual tours into your app's "Offline" section makes moments of "no signal" seem much less scary!
Want one with your own brand? No problem. We create, code and register your personal app that your customers can find in the App stores and download onto their smartphones. Boost your business with a portfolio app or offer your clients their own branded apps with their tours inside.
EXPORT TO


GOOGLE STREET VIEW
The tours you create in VT PRO can now be published directly to Google Street View. They'll beautifully integrate with the official information of your Google listing (i.e. phone, address and reviews).
Virtual Tours on the point of first contact, which Google tends to be, are the ultimate tool to familiarize the customer with a business. Plus, they also have proven to positively impact indexation and visibility on search platforms, helping you show up among the first.
The "Sharable Content Object Reference Model" is a set of standards and specifications for e-learning that makes sure that all e-learning content and LMSs can work with each other. Just like the DVD standard makes sure that all DVDs will play in all DVD players. 3DVista VT PRO lets you create SCORM compliant virtual tours. This means you can add and integrate your virtual tours into your SCORM compliant online courses and MOOCs.
You can upload your virtual tour to the internet, either as a new webpage (solely showing the tour) or as part of an existing webpage (i.e. integrate the virtual tour into the product descrip-tion page of a house that you are offering).
Your audience does not need any special player or software in order to see the virtual tour. So as soon as your virtual tour is published online, it can be seen by anyone.
EXPORTING AS A STANDALONE PLAYER (OFFLINE)
This format publishes your virtual tour as one file, which can be used locally. This means, you can pass it on via CD, USB stick or email and your audience can run the virtual tour without the need for an internet connection or extra software. Simply double click on the file and the virtual tour will start running on any computer.
Unlike with many other virtual tour softwares, with 3DVista Virtual Tour Suite, you don't need any tech skills to create a complete interactive virtual tour. even adding complex behaviours and interactions to your virtual tours are a matter of a few clicks only.
We understand that not everyone has time to learn how to create complex behaviours. This is why we made complex simple. Intuitive control panels with step-by-step mechanisms allow you to create, adapt and change components, functions and layouts in no time – with no limi-tation in versatility at all.
If you want to upload your virtual tours to the internet, but don't know anything about FTP pro-grams or how to upload which files to what server, 3DVista has a very convenient solution for you: Subscribers of our (yearly) Hosting Service can simply create their virtual tour using the software and once done, click "Upload to my Hosting". This will automatically upload your tour to your personal 3DVista server and give you a link, which you can a) send to customers or b) integrate in (the code of) your webpage (so that your tour is integrated into your website). It's the easiest and fastest way to absolute professionalism.
OPTIMIZED FOR SHARING IN SOCIAL NETWORKS
When sharing a link on social networks (e.g. facebook), the virtual tours will automatically show in an optimum way. Image, description and text will be displayed in an optimum format to maximise exposure and awareness.
OPTIMIZED BANDWITH FOR MOBILE
When publishing your virtual tour, you can select an (additional) option, that optimizes your virtual tours for display on mobile phones. This will publish an alternative, smaller version of the virtual tour which saves your customers valuable bandwidth and makes the tours run more smoothly on mobiles, without any compromise of quality whatsoever.
SUPPORT FOR MOST TYPES OF CAMERAS AND LENSES
3DVista Stitcher stitches photos taken with almost any kind of camera and lens. Optimum results are achieved with popular lenses including wide angle lenses, fisheye lenses, one shot lenses or 6 cube faces made with CAD but even photos taken with point and shoot cameras or mobile phones are supported.
AUTOMATIC CONTROL POINTS DETECTION
3DVista Stitcher can stitch your photos entirely on its own by automatically detecting control points – those points that appear in two adjacent photos, which are taken to merge or over-lap the two. However, you can always add/place/change/delete control points yourself to optimize the result if you wish.
SINGLE, DOUBLE ROW AND FREE STITCHING
If you don't have a wide angle lens, you can still create a great panorama by stitching a larger number of images. Don't miss the panorama, just because you only have a point and shoot camera or a cell phone. Free stitching allows to stitch photos that have been taken "zig-zag" with your phone.
HDR (High Dynamic Range) is a great feature to enhance your panoramas and virtual tours. A normal photo -without HDR- can have areas that are over- or underexposed, usually both, which results in a loss of detail in bright or dark areas. HDR compensates for this loss of detail: You capture each shot various times at different exposure levels (i.e. take each shot three times) and combine them to produce one photo representative of a broader ton-al range. This means that in the final photo we will have the optimal exposure of dark and bright spots respectively combined (which initially come from different photos). This is espe-cially useful for indoor panoramas where you have windows or lamps.
3DVista Stitcher has a feature that allows you to stitch HDR panoramas with one click. Simply select all photos and click on standard HDR stitching. You'll get a stunning HDR panorama in no time.
3DVista developed a technology that takes advantage of the benefits of HDR while making the panoramas look more natural and real. Adaptive HDR is a feature that is exclusive to 3DVista technology that you won't find in any other software.
We were inspired by the behavior of the actual human eye whenever it has to deal with very dark and very bright spots in real life. What the human eye does is it adapts to light and dark dynamically by adjusting the iris depending on the area your iris focuses on. With 3DVista's adaptive HDR, we are mimicking this natural behavior. So what adaptive HDR does is that rather than having the optimal exposure levels fixed in your panoramas, it dynamically ad-justs them depending on where in the panorama you are looking in real time. It lets you ex-perience how exposure and luminosity adapt in every area of the panorama just as the hu-man iris would, letting you see places the way they actually look in reality.
Our latest innovation and unique to 3DVista, Live Panoramas take virtual tours to the next level. If you take the (exact) same panorama over a period of time and select the Live Pano-rama Stitching mode, you will get an immersive panorama that shows the course of time and perfectly reflect the atmosphere of a place. It merges your panoramas to create a seamless, time-lapse panorama that allows you to see magical moments, such as the sunrise, in 360°. It couldn't get any more real!
AUTOMATIC COLOR AND EXPOSURE CORRECTION
If your individual photos show a lot of difference in color, don't worry: Thanks to our smart algorithm, the levels of exposure, color and brightness between pictures will be automatical-ly adjusted and merged while stitching. This will leave you with a great, homogenous panorama.
When shooting panoramas, sometimes it's inevitable to capture moving cars, persons, clouds etc. Those moving objects could then appear in two different photos, which will be stitched. Our algorithms detect this movement and compensate it to avoid "ghosting".
18 TYPES OF PROJECTIONS SUPPORTED, INCLUDING SMALL PLANETS
Depending on the use of your panorama (virtual tours, printing, architectural projections, marketing material etc.), you may want to have it projected in one format or another.
– equirectangular (For spherical panos)
– Cubic, 6 Faces
– Rectilinear
– Cylindrical (for printing and QTVR)
– Fisheye equidistance Full Frame
– Fisheye Stereographics Full Frame
– Mercator
– Transverse Mercator
– Sinusoidal
– Lambert equal
– Lambert Azimuthal
– Albers equal Area Conical
– Miller Cylindrical
– Panini
– Architectural
– Fisheye Orthographic Fullframe
– Fisheye equisolid Fullframe
18 TYPES OF PROJECTIONS SUPPORTED, INCLUDING SMALL PLANETS
If you want to stitch various panoramas, waiting times during the individual High-Quality Stitching processes can take up a lot of your valuable time. Therefore, 3DVista Stitcher offers a "Send to Batch" Option, which allows you to edit and pre-stitch (low-quality stitch to see what the panorama would look like) your panorama and then send it to Batch to be stitched later on. Then, you continue to pre-stitch the next panorama and do the same. At the very end you can initiate the high-quality stitching process of all panoramas in the Batch together.
BIG LIBRARY OF PREMADE SKINS
Speed up your interface creation by choosing pre-designed elements from our Skin Library without compromising individuality. You can also choose library elements and change/adapt them yourself.
INTUITIVE DRAG AND DROP BASED SKIN MAKER
The creation of skins is entirely drag and drop based. This means that you move your com-ponents around to place them on your canvas in the exact way that you want them to be displayed on top of your tour.
Create an interface that adapts to the size of the browser/screen. This will make sure that -whether seeing a small preview or playing it in full screen- your design will always adapt to total size.
Fixed size skins serve for embedding a virtual tour in an existing page, such as blogs, product websites etc.
Buttons that trigger the action of hiding or showing selected virtual tour elements. You could, for example, give your audience the power to hide all hotspots within a panorama to achieve a clearer view. When clicking on the button within the skin/interface, all hotspots will automatically disappear. If you wish, the same button can also make them reappear again, of course (turn hotspots on/off).
Rather than only plain colors, buttons, components and info boxes can carry gradient colors to give your designs more depth.
Tabs serve to organize content of different nature within the same window. 3DVista Virtual Tour's Skinmaker allows you to create such windows with as many tabs as you wish.
3DVista has developed a new technology that takes the HDR concept to the next level. ADAPTIVE HDR is the first technology to DYNAMICALLY adapt the exposure of a spot avoiding extreme shade or light. By imitating the human eye, ADAPTIVE HDR technology analyzes the area you are looking at and chooses the optimum exposure for it in real time. This ensures optimum visualization of every detail. ADAPTIVE HDR adds another Wow-element of reality to your Tours making them uniquely realistic.
Live Panoramas are our latest innovation. As a feature unique to 3DVista, they take virtual tours to the next level. If you take the (exact) same panorama over a period of time and select the Live Panorama Stitching mode, you will get an immersive panorama that shows the course of time and perfectly reflects the atmosphere of a place. It merges your panoramas to create a seamless, time-lapse panorama that allows you to see magical moments, such as the sunrise, in 360°. It couldn't get any more real!
Full panoramas are panoramas that cover the full 360°.
SUPPORTS PARTIAL PANORAMAS
You can also integrate partial panoramas in your virtual tours. Panoramas that cover less than 360° will simply bounce back once they reach either end.
Lens flares are visible artifacts of scattered light that you usually see when pointing a lens towards a light source. Do you have very bright spots or sources of light in your panoramas? Per drag and drop you can place a Lens Flare that will simulate this effect making the experience extra real.
Allows you to place different audio files on different areas of the panorama. Play wave sounds as your audience is looking towards the ocean, while playing children sounds once they turn towards the other side. The smooth transitions between the sound zones imitate how you'd hear different things from different directions making the experience real yet another level.
TRIPOD CAPS (FLOATING AND FIXED)
Tripod caps not only help hiding the tripod in the bottom of your panorama, they are also a great spot to place your logo. Tripod caps can either be fixed so they won't spin while you're moving (ideal for compass designs), or they can be floating so you always see your design or logo upright.
INITIAL POINT, SPEED AND INERTIA SETTINGS
Define the Starting point of your panoramas, their "spinning" speed and inertia, as well as the speed you allow your visitors when interacting.
Limit the zoom in and out according to your taste to prevent your panoramas from displaying in low quality.
Hotspot Action. Using hotspots, you can link panoramas of for example, two adjacent rooms. When clicking on the hotspot, the linked panorama will open and your audience will feel like they are moving to the next room. This way, you can create a true walk-through and allow your audience to move wherever they want.
TRANSPARENCIES AND ROLLOVERS
Define whether you want your hotspots to display at all times or only when rolling over them with the mouse. Define the same for when their action should be triggered (on roll-over or when being clicked on).
POP UP INFORMATION WINDOWS
Hotspot Action. An info window is a type of hotspot that pops up and displays extra info to your customers when clicked on (or rolled-over). The info window can contain text and/or media, such as videos or images. It is ideal to give extra details about a certain point or object within your panorama. You can customize the information window by changing colors, size, font, transparency etc.
Hotspot Action. Hotspots can open pop up images when being clicked on (or rolled over). Pop up images are great to show details, without the need for text information. They are heavily used in virtual tours for museums to have a closer look at the exposition objects.
A hotspot can also trigger the action of opening a pre-selected webpage.
In some cases it is useful to give your audience an auto-pilot tour to show them specific things in a predetermined order (yet they can always interfere and start piloting themselves). With 3DVista Virtual Tour's Auto-pilot function, the tour moves and acts on its own, showing information and media according to how you set it up.
When setting up an auto-pilot tour, you pre-define the path by placing waypoints. If you wish, you can even assign actions to these waypoints, which will be triggered once the tour reaches the according waypoint. Actions include "Play audio", "Open Info Window", "Play a Video" or any kind of media control (and many more).
You can set timers to automatically close windows or restart the autopilot after lack of interaction.
Hotspot Action. Just as buttons within the skin, waypoints can be assigned the action of showing or hiding certain virtual tour elements, too. This means that as soon as the auto-pilot reaches the waypoint, the element you chose will be hidden or shown (depending on what you selected and whether or not it was displayed before already).
INTRODUCING INTERACTIVE VIDEOS
This is a unique and revolutionary feature of 3DVista. It allows you to add interactivity to videos by choosing specific times to show elements, play media or display info on top of the video. This way you can immerse your audience into a flat video.
CUSTOMIZABLE INTERFACE AND BUTTONS FOR VIDEOS
Just as you can customize your tour's skin, you can also change buttons, loading bars and background of your videos.
VIDEOS AS LOADING SCREEN OF THE TOUR
Instead of a blank screen or a still image you can place a full screen video and decide whether the tour should start as soon as it is readily loaded or when the video finishes.