Lease, rent and sell Homes – easier and faster
There's probably no need to dive deep into the explanation of the value that virtual staging has in construction and real estate. The numbers speak for themselves and considering that the purchase of a home is an emotional act, you'll want to fill it with life. After all, an empty house is not a home. A fully immersive virtually staged 360º tour lets you show it in not only its best light, but also in multiple designs that the visitor can choose from.  It allows prospective buyers to walk through the place, change the design and make it "theirs".  Have them explore the space on their own terms on your website or digitally take them by the hand using 3DVista's free Live Guided Tours (in-tour video calls with the realtor).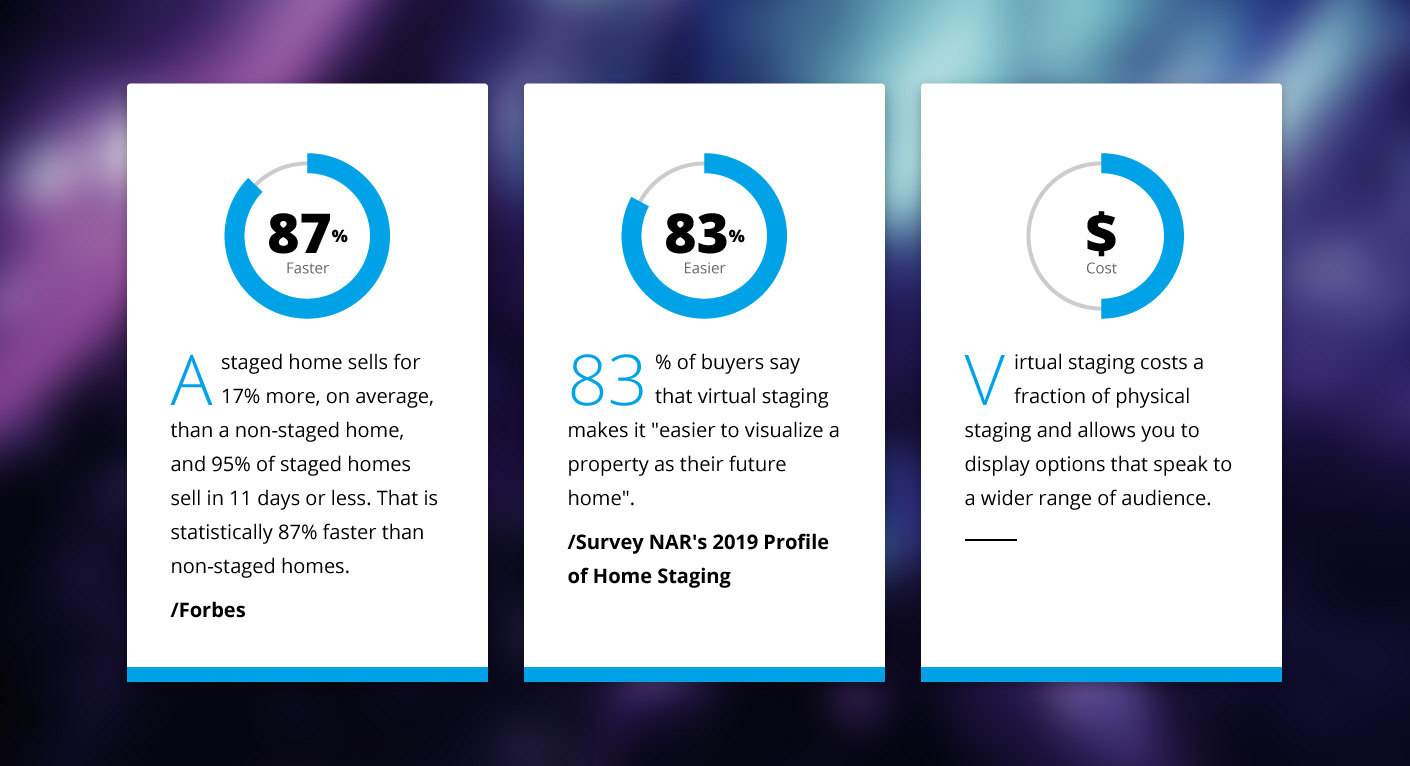 Visual Configurators – online and in 360º
Beyond just offering the houses on your website for a walk-through, let potential buyers play around with the different design options that you're offering. Present your virtual tours on your website as an interactive configurator, with which they can play around, save and share their drafts with others and even place a direct order with you.
How to do it
OPTION 1: The old-school way
Creating a tour with virtual staging capabilities for the visitor has been possible in 3DVista VT PRO for a while now. In a nutshell, you'd import different panoramas of the same space with different design options and load one or the other depending on the selection that your audience made in real-time when browsing your tour. Have a look at this tutorial to see what we mean:
Option 2: Projected Image Hotspot – the new Virtual Staging
The more options you offer for one room, the more complicated the combinations of panoramas you had to render and import could get. So to make things easier (and tours less "heavy"), we just launched a completely new hotspot type just for Virtual Staging: The Projected Image Hotspot. This hotspot allows you to import small parts (e.g. the kitchen counter) of your equirectangular panorama and overlay and integrate it smoothly into the spherically displayed 360º panorama or room in VT PRO. You no longer need to import a separate panorama for each combination. Instead, you work with ONE base panorama (or room) and overlay as many elements and designs as you want. Depending on the selection of your audience, one or the other design will be displayed, allowing the user to switch through different floors, wall colors or furniture with a simple click. Have a look:
Want to try it?
Not a 3DVista user yet? Try our free 30-day trial (no credit card required) of the desktop software VT PRO to design and create your own virtual tours. You don't have any 360º content to work with yet? No problem. Just download our demo tours and use them in the software to play around with.