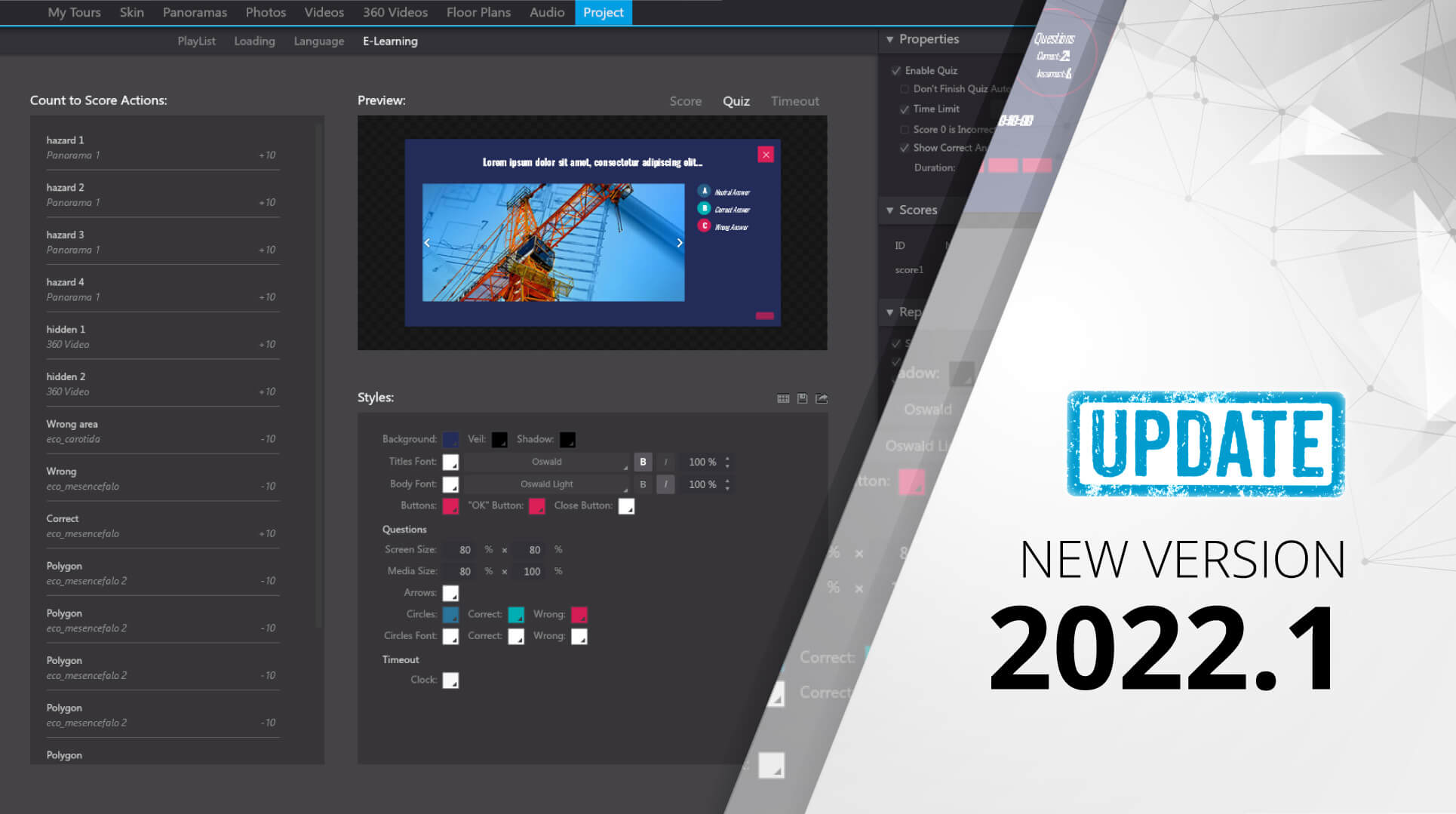 The most important additions are:
New functionalities for E-Learning:
We have completely redesigned the E-learning screen. Now, on the Right panel you will have the old options of e-learning, Scores, Report, etc. without having to open new screens. And above all, we have dedicated the entire left-hand section to adding new and useful options for managing questions and editing styles. We detail them below:
For a more detailed explanation of this part, check out our video tutorial.
 Question list and Count to Score list in the "E-Learning" tab.


For a better management of e-learning we have added two new modules that will be of great help to you. You can find a list with the questions of the quiz cards, and a list of the actions "count to score". That will allow you to see in one sight the questions and score points directly from there, without having to go looking for them on the tour.
In addition, we show the complete sum of Question cards, Count to Score Actions and the maximum score that the user can get.
Added a real time Score/Question/Report preview in the "E-Learning" tab.


With this new preview, you will be able to see how your e-learning screens will look at all times without having to click on preview. Edit what will or will not be shown in the score, and preview it in real time to see how it looks. And above all, with the following style change function, you will be able to see how your designs look with each change you apply.
Added several options to change the E-Learning style (Upgrade).


Customize the design of your e-learning screens, being able to edit almost all the elements that compose them. Now you can change the fonts, sizes, colors, opacity, etc, of the texts, panels, buttons…
Added E-learning Themes to the library. You can save/load/export them (Upgrade).


Just as you can save your skin elements, with this new option you will be able to save, load and export the designs of the e-learning screens. Through the library, you can manage and classify these designs for later reuse in future tours.
New "E-Learning Timer" action where you can pause and resume the timer (Upgrade).


With this new action you will have a more precise control of the e-learning time. Now you can pause it and resume it by applying this action where you need. The most common example would be to pause time while a question is open (so the user can read it and think about it carefully without the time limit counting down)
Another important additions:

Added "Right Click Options" in the Global Settings panel (Upgrade).


You can exclude the standards fullscreen, mute and rotation options, and add new custom options as well with your own actions.
Added a settings button in the "Show VR Menu" option to edit the VR Menu name and styles (Upgrade).

You will now be able to customize the style of the Media menu when you are in VR mode. Change its name, VR distance, font, and colors of the various states.
Added in the VR Menu Settings the option to show the play list, custom media or custom items with your own actions (Upgrade).


Expands the possibilities regarding the content to display in the VR menu: Playlist, Custom Media and Custom items (with the latter you can create custom menus and hierarchies with items and sub-items with the actions you decide)
Added Tags in the Audio action. (Upgrade).


You can play/pause/stop several audio in a single action using tags
Added "Minimum Display Time" in the Loading tab when the initialization is "On Ready". (Upgrade).


It will display the loading page in the indicated time at least.
Added "When Video Finished" value in the Initialization option in the Loading tab.


In this way you can create home screens with a video and ensure that the user will see it until the end and automatically close and start the tour.
Added a play button in the Loading if the "Enable Audio/Video" option is set to "Play Button".


The video will be paused if the sound can't be played, waiting to the user to click on it and start playing the video with audio.
Added "Follow Mouse" in the Tool Tip settings.


Check this new option if you want the tooltip to move next to the mouse cursor, as if it were stuck to it, following its movement.
Removed the "Author" option in the Global Settings panel because it is configurable in the new "Right Click Options" popup.
Want to try it?
This is an update available to all 3DVista users. Even if you don't currently have a valid Upgrade plan (what's that?) you will be able to use the new Hotspot Editor with all functions that you previously also had access to. If you want to take full advantage of newly implemented functions in that new Hotspot editor, we do recommend you get the 1-Year Upgrade if you don't currently have it. This will give you permanent access to these new additions and any other new features and functions that will be added throughout those 12 months of your Upgrade plan (you'll keep those even if you don't get a new Upgrade Plan after expiry).
Not a 3DVista user yet? Try our free 30-day trial (no credit card required) of the desktop software VT PRO to design and create your own virtual tours. You don't have any 360º content to work with yet? No problem. Just download our demo tours and use them in the software to play around with.