Saving a 3DVista project, creating a Backup with Media and Duplicating your project
When you're creating a New project, this generates a specific project ID. Each project ID will show up in My Tours tab. Saving your 3DVista VT Pro project can be done in three various ways.
Save / Save As.
The first way of saving your work is by saving it as a .vtp file by going to File > Save As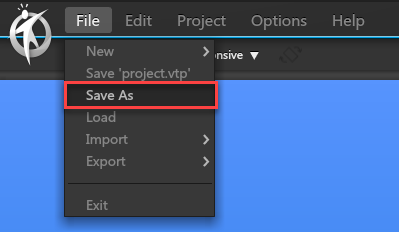 The vtp file has all the file locations and actions. This file does not include any media. Saving a new .vtp file is a quick lightweight way of creating a backup. Be aware of keeping all your imported media files on exactly the same file location as you imported them. If you later decide to move or remove a file from it's location or changing a folder's name, it becomes a missing file when you later open the vtp project again. Using Save or Save As will keep the same project ID.
2. Project with media
The second way of creating a backup is by going to File > Export > Create Project Backup with Media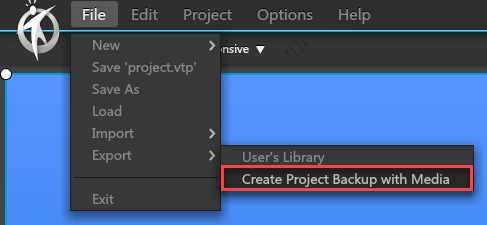 Beside saving a new vtp file (that won't be overwritten when you save the project again using File > Save), it also collects all the linked media into one folder. This is the most secure way of creating a backup as it doesn't matter if you later move or remove a file from it's first imported file location. Beside that you can zip this folder and send the full project to someone else. Using this method to Create Project Backup with Media keeps the same project ID.
3. Duplicating project
Duplicating the project means that the vtp file created will be duplicated locally. It generates a new project ID. So that means it also appears as a second project in the My Tours tab. The media needs to be cached again, meaning that the first preview might take more time.


3DVista Hosting service – replacing the tour or creating an extra URL
When using 3DVista hosting service and uploading your tour again, the uploaded files will be overwritten by your previous upload if you're using the same Project ID. If you want a second URL for the same Virtual Tour project, then you'll need a second project ID. In that case you'll have to duplicate the project and upload the duplicated project to the 3DVista Hosting service.