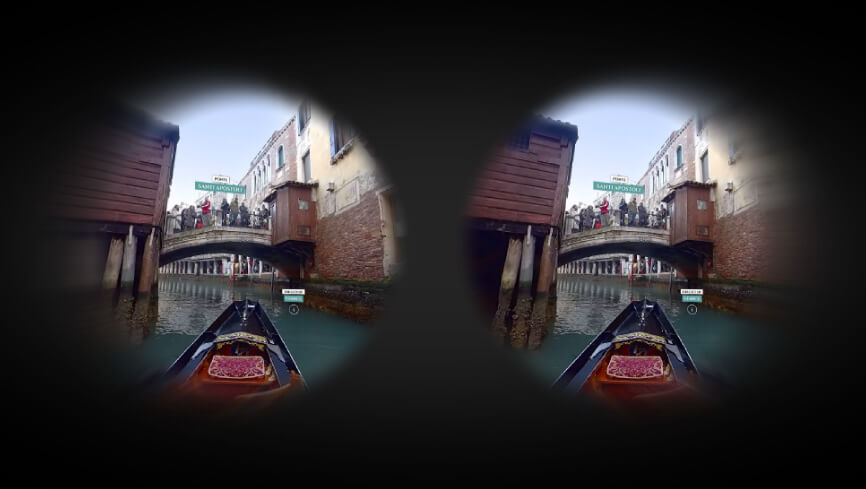 Prepare to immerse yourself in an incredibly realistic and immersive virtual experience!

We are pleased to announce that VTPro now supports 360º 3D videos, which will take you to a whole new level of immersion.

We invite you to enjoy our latest demonstration, a beautiful gondola ride through the canals of Venice, where the 3D effect of the video will instantly transport you to this wonderful city. By using Meta Quest 2 glasses and accessing through the Meta Browser, you can fully enjoy the tour and experience the stereoscopic (3D) video version, allowing you to feel even closer to the beauty and essence of the city.
In order to provide our creators with the most creative possibilities, we have been working hard to develop support for this new type of media, which means that you can now easily add these videos to your virtual tours.
How does it work exactly? 3D 360-degree videos are a form of multimedia that displays two images at once for each frame: one for the left eye and one for the right eye. When played on VR devices, each eye only sees the necessary image, which the brain interprets as perspective or depth, creating an incredibly realistic and three-dimensional sensation.
And of course, just as in regular 360 videos, we can add different types of hotspots such as Text, Image, Video, or Webframes on them. These hotspots can be animated over time to vary their opacity, scale, position, or rotation, greatly enriching the videos and adding clickable titles, texts, or informational images that appear, follow the video, etc. The "VR Distance" of these hotspots can also be defined, making them appear closer or farther away from us and integrating them much better into the video.
These videos can be created by recording with stereoscopic 360 cameras such as Insta360 Pro and Kandao, or through 3D CAD programs. Moreover, the most common video editing software increasingly includes more options to generate, retouch, and edit this type of material.
How to use in 3DVista VTPro
Once you have your video ready, you just have to import it into VTPro with the Video 360º option and define the Stereo Mode (Top-Bottom or Left-Right) in its settings.
Recommendations for publication:
The maximum allowed resolution for these videos is 5760×5760, and we recommend marking "Force Quality" and reducing the quality so that the resulting tour doesn't take up too much space (this type of video is especially resource-demanding and takes up a lot of disk space due to its large size). For example, in our demo, the video is at 5760×5760 and the quality is at 40%.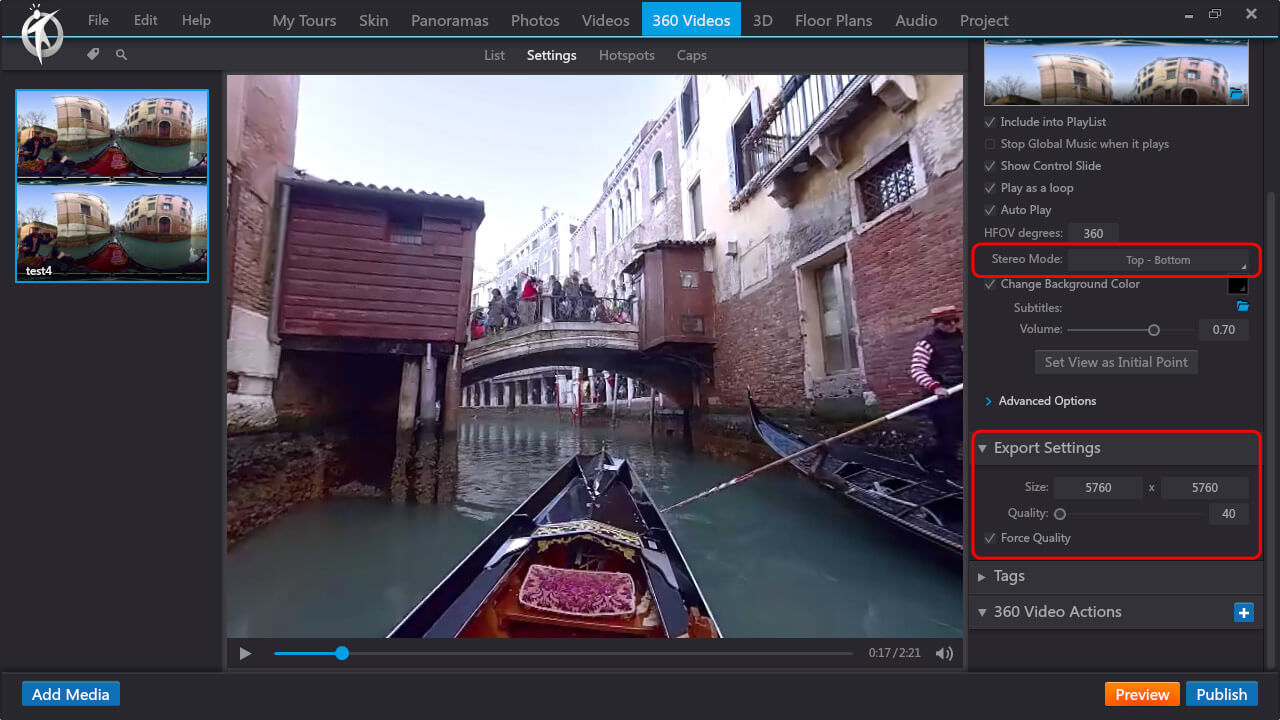 We recommend marking the "Optimize for Quest 2 & Pico Neo 3" option.
We advise against marking "Export Video to Adaptive" to ensure that the video plays at its maximum resolution.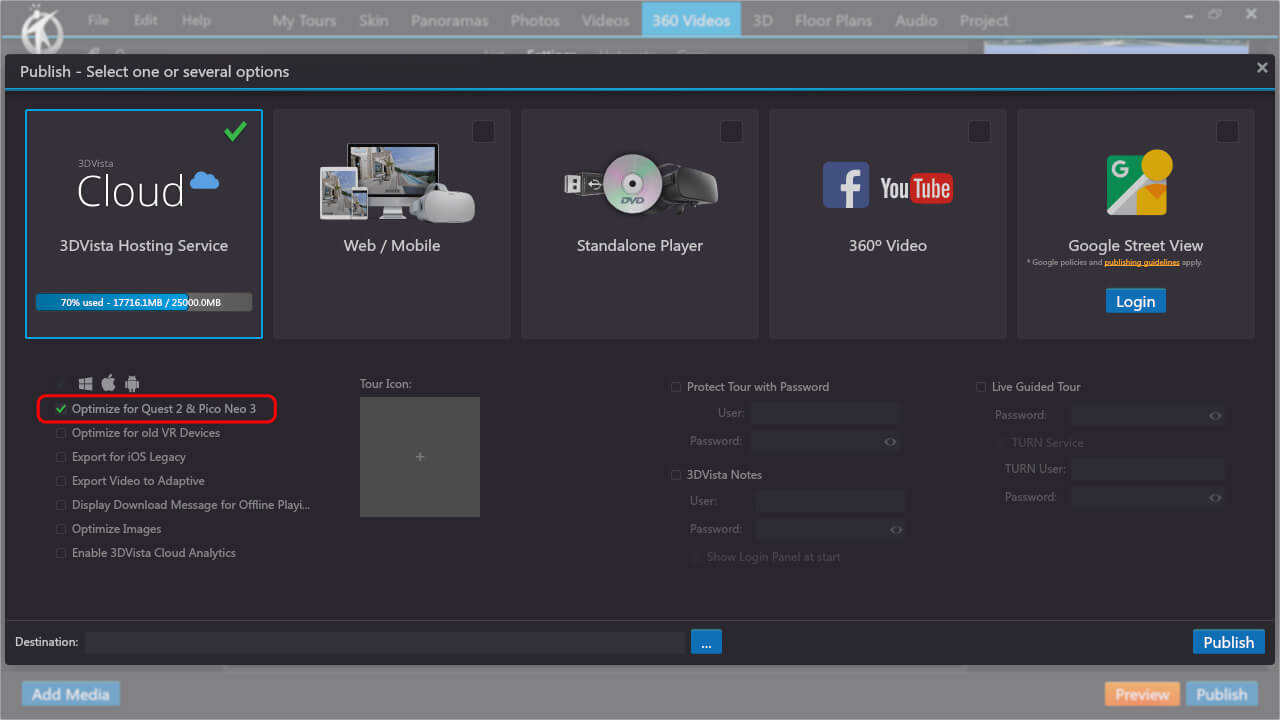 Remember to add a button in the skin (or as a hotspot) to enter VR mode and be able to enjoy it on our supported devices.
Upon clicking the publish button, the software initiates a series of intricate procedures to generate various renditions of the video, with the aim of playing the most compatible one for the displaying device. Please note that this process may require a considerable amount of time and we urge you to exercise patience while it runs its course, as it is a standard behavior.
On what devices can I watch 3D 360º videos?
Due to the high demand for resources of this type of video, only Meta Quest 2 devices are currently capable of playing them in 3D mode. Other devices can still view these videos, but they will do so in "mono", as if it were a normal 360 video.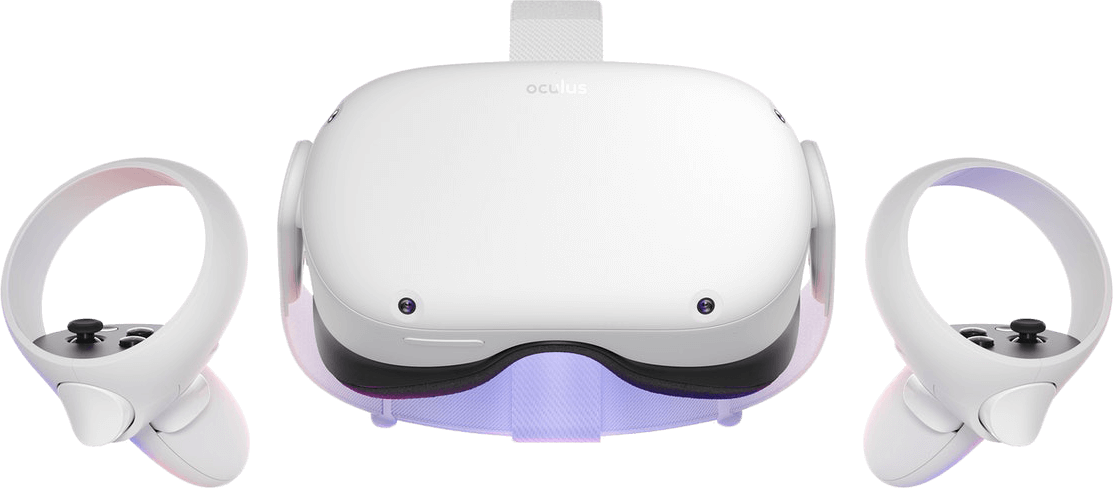 If you have a Meta Quest 2, you can watch this type of tours:
Online through the Meta browser (don't forget to click the VR button).
Offline by entering the tour from the Meta browser and downloading it with the option that appears at the top of the tour. This way, the next time you enter, you will see the offline version. Remember that to make this option available in your tours, you will have to mark the option "Display Download Message for Offline Playing" when you publish. More information about this method here.
Connecting your computer to the Quest 2 glasses via USB cable.
If you do not have Meta Quest 2, you can still view the non-3D (mono) version from any device, either with any other VR glasses (Pico, HTC, old Oculus models…) directly from the browser or through cable connected to a PC, via mobile (with or without cardboard) or directly from a PC.
In summary, we are very excited to see how our amazing community will make the most of their creativity with this new feature. We are sure that we will see many surprising and exciting productions that will be shared with the world. Let's do incredible things together!